I'm John Cordray, a board-certified counselor and the host of the Mental Health Today Show.
My vision is to encourage and inspire 1 Million people with the message that recovery and growth from a mental illness is possible.
My mission is to dismantle the stigma of Mental Illness one episode at a time.
Millions of people around the world suffer from some type of mental health issue, and/or substance abuse. In fact, 13% of the world's population, of the world's population, is suffering.
It's estimated that the COVID-19 Pandemic has impacted the mental health of 59% of Americans.
Sobering Statistics:
Anxiety affects 284 million people in the world.
Depression affects 264 million people in the world.
Bipolar affects 46 million people.
Anxiety, depression, bipolar, relationship problems, substance abuse, and stress, are at an all-time high, yet not everyone is able or willing to get the help they need.
BUT, they may be willing to listen to a therapist encourage and inspire them to work on their mental health. To live each day with the hope of recovery. To take one day at a time, and to not lose hope.
Subscribe to the Mental Health Today Show.

My Story...
I didn't initially set out to become a therapist, in fact, I dreamed of becoming the next David Letterman and having my own show. I graduated from the same college as David Letterman, and I earned a degree in Radio and TV production. But, I didn't become the next David Letterman, but I do have my own show!
I met my wife, Julie, in college and we got married two weeks after graduation. Over 26 years later we're still going strong!
Fast forward several years after we married, Julie and I moved to St. Louis, Missouri (with two little kids in tow), for me to attend seminary. My love for God and for helping teens with hard and difficult issues compelled me to pursue youth ministry as a career.
Three years into my seminary degree I realized my true calling was to become a therapist. Thanks, honey, for being so understanding with the switch. You are an amazing wife!
I wanted to learn how to help people who struggle with so many mental health issues.
So, I spent another couple of years earning my master's in professional counseling at a local university in St. Louis.
After I became a Licensed Professional Counselor I started a private practice, and later worked in a school district to help the staff work with traumatized and abused students.
Credentials:
2005 - Master's in Professional Counseling
2007 - Licensed Professional Counselor (LPC)
2010 - Board-certified counselor (NCC)
2019 - Licensed Professional Clinical Counselor (LPCC)
2021 - Licensed Mental Health Counselor (LMHC)
After I became a licensed therapist I wanted to do something bigger - something that could make a big impact. I wanted to help more people who needed encouragement with their mental health.
But, I thought that dream would never become a reality, just like my dream of becoming the next David Letterman.
Live on Periscope
Then I discovered Periscope, the live-streaming platform acquired by Twitter. Periscope is no longer operating, but you can still view my Periscope replays here.
I was intrigued that people could watch someone talk live from around the world - Wow!
Then it hit me, "What if I could use live-streaming as a platform to help a lot of people who struggle with mental health?"
Would people be interested in a therapist on Periscope talking about anxiety and depression? Yep!
In fact, I was invited to speak at the Periscope Summit in San Fransico to speak about how live-streaming can help promote mental health.
Periscope Summit
SXSW
A few months later, I spoke at South by Southwest (SXSW) in San Antonio, Texas. The message of helping people with mental health issues was taking off more than I had ever thought possible.
I discovered podcasting
As I met people in the social media space I heard about podcasting. Not too different than live-streaming, only it's not live and you're behind the mic, instead of in front of the camera.
After listening and learning from the likes of Pat Flynn, John Lee Dumas, and Chris Ducker, I decided to launch my own podcast in 2015. Again, I wanted to reach as many people as I could who struggle with mental health.
I started recording in my office after seeing clients, it was a pain to load up my equipment, set it up, and then tare it down again, every time I wanted to record an episode. But I did it, and I fell in love with podcasting.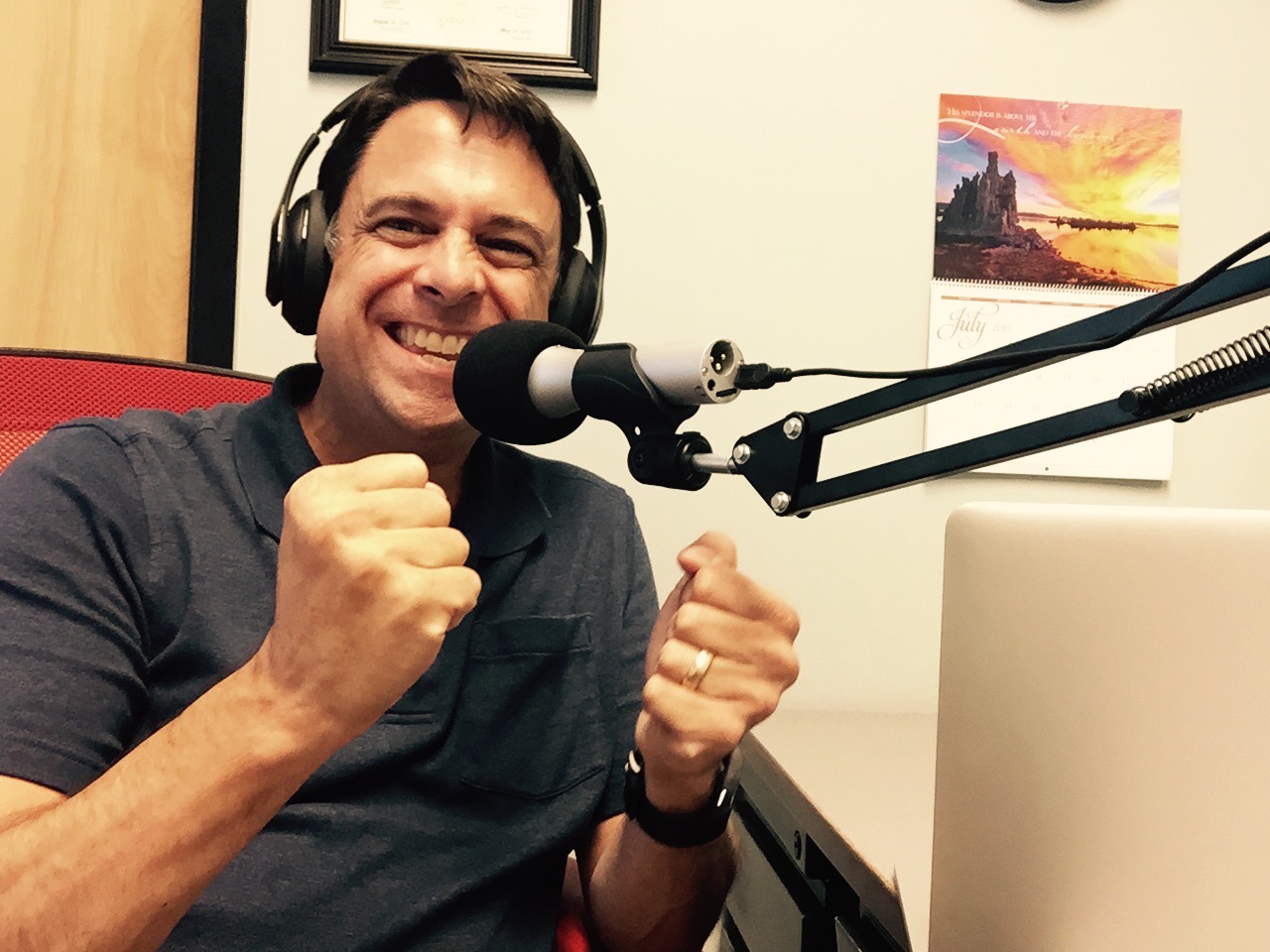 I couldn't think of a name to call my podcast, so I named it The John Cordray Show. But later I changed it to the Mental Health Today Show so people would know what it was about, just by reading the name.
It was fun seeing my podcast be listed on iTunes. I even hired someone to do my intro music and voiceover. That's my show on the bottom right.
Many episodes later I was invited on Chris Ducker's podcast to talk about how I was building my personal brand around mental health. You can listen to the episode "How One Entrepreneur Became a Branding Building Machine with John Cordray".
And then I had Chris Ducker on my show talking about burnout as an entrepreneur. Chris even talked about things he didn't talk about before. You can listen to the episode "Overcoming Entrprenuer Burnout with Chris Ducker."
I haven't been on John Lee Dumas's or Pat Flynn's podcast yet, but who knows, maybe one day!
I later changed the name of my podcast to better reflect my mission and vision to the Mental Health Today Show. Right away, you know exactly what my show is about.
Season 1 on Amazon
In 2016 I had the incredible opportunity to launch Season 1 of The Mental Health Today Show on Amazon. It was surreal to see The Mental Health Today Show on my TV. Wow, how cool is that! I can't wait to launch season 2 soon!
It's been a tremendous experience to be able to help thousands of people work on their mental health. I can't wait to see what more can be done to dismantle the stigma of mental health.
A special thank you
My show would not be possible without loyal listeners and new listeners like yourself. You are amazing, and I consider it an honor to serve you as your encourager and coach to help you live a richer life.
That's all for now, remember to take care of yourself, and until next time, God bless...
All the best, John